Do you want to keep a record of every email sent from your WordPress website? In this article, we will tell you how to set up email logs in WordPress. Once you setup email logs you can keep a record of every email sent from your WordPress website
Do you find it difficult to figure out when a particular email was sent (i.e date and time), whether it was delivered or not, if not, then what was the status? Was it delivered to the right person? All of these questions can be answered and figured out if you have setup Email logs in WordPress
In order to setup Email logs in WordPress we are going to make use of a WordPress plugin called WP SMTP Mail. This plugin will help you figure out which emails were sent, at what time and date they were sent, who was the intended recipient.
Here's what all data you can figure out when you setup Email logs using WP SMTP Mail.
Form Notifications – Are you making use of form notifications? Form notifications send you email alerts whenever someone fills out a form on your website. This way you stay updated on the leads that are coming your way. You can also route these emails to a specific team member if you want them to follow up on the incoming leads.
Get to know who received which email – In case you want to know what email was sent to a particular user then you can do so by making use of the Email logs feature. You can also come to know which visitor or team member received which email.
Date and time – As we already stated you can get an idea when an email was sent (date and time).
Check Email deliverability – You can make use of email logs and WP SMTP Mail to check email deliverability i.e whether the emails were delivered successfully or not. If someone says that they haven't received an email from you then you can certainly check the Email logs. WP Mail SMTP makes sure that your emails are authenticated properly and sent via trusted third parties and delivered successfully to the user's inbox. 
In order to setup the email logs you will have to follow the below steps
Step 1: Install and Activate WP SMTP Mail WordPresss Plugin
Follow the below-given process in order to install the WP SMTP Mail WordPress plugin
Navigate to your WordPress dashboard
Go to the Plugins section –> Add New
Once you click on Add New you will come across a screen. In the search box type "WP SMTP Mail" and then you will come across a screen similar to this one.
Now click on "Install Now" and then Activate the Plugin. Once you have activated the plugin then head over to the WordPress dashboard
Step 2: Enable the Email Logs feature
Navigate to the WordPress dashboard and then go to WP SMTP Mail —> Settings and then go to the Email Log tab

Once you click on Email Log tab you will come across a section called Enable Log. All that you need to do is check the box which says Enable Log . Once you have checked the box in front of Enable Log a second option will appear which says Log Email content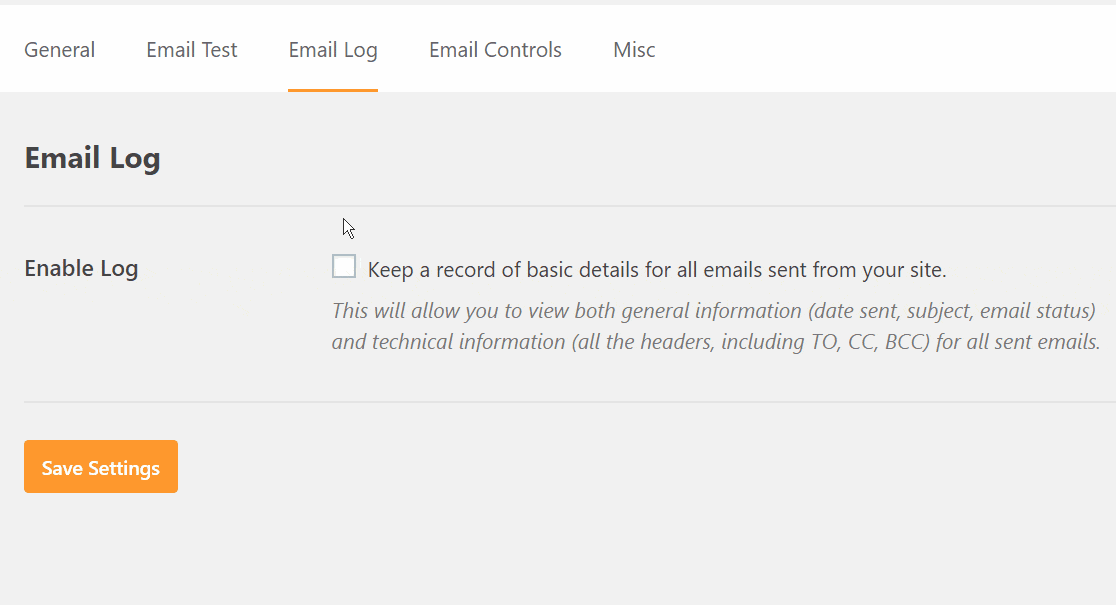 Once you have enabled this option you will get details of the Email logs
– Email status (if the email was delivered successfully or not)
– The date and time when it was sent
– The recipient's email address including the CC fields (if any)
– The subject line of the email
– The number of attachments (in case you have enabled multiple file upload)
It's completely up to you if you want to enable the option called "Log Email content". The Log Email content option will store all the content of the emails that were sent from your WordPress site. This is an optional setting
Once you are done making the changes then "Save Settings"
Step 3: View your Email Logs
In order to view the email logs all that you need to do is navigate to your WordPress dashboard. Go to WP SMTP Mail —> Email Log which you will find on the left hand side panel of your dashboard. When you click on Email log you will see the latest emails at the top.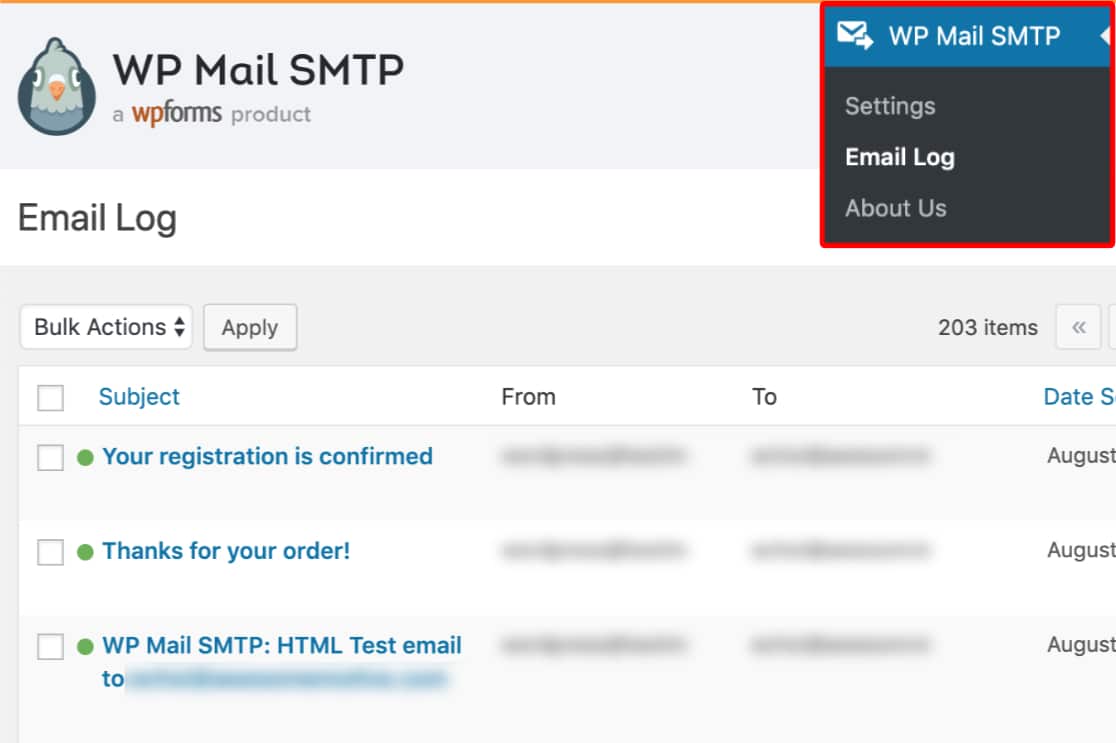 In case you want to see more details about an email all that you need to do is click on the subject line. When you click on any subject line from the records you will come across the details of the email. You will see the details of that particular email.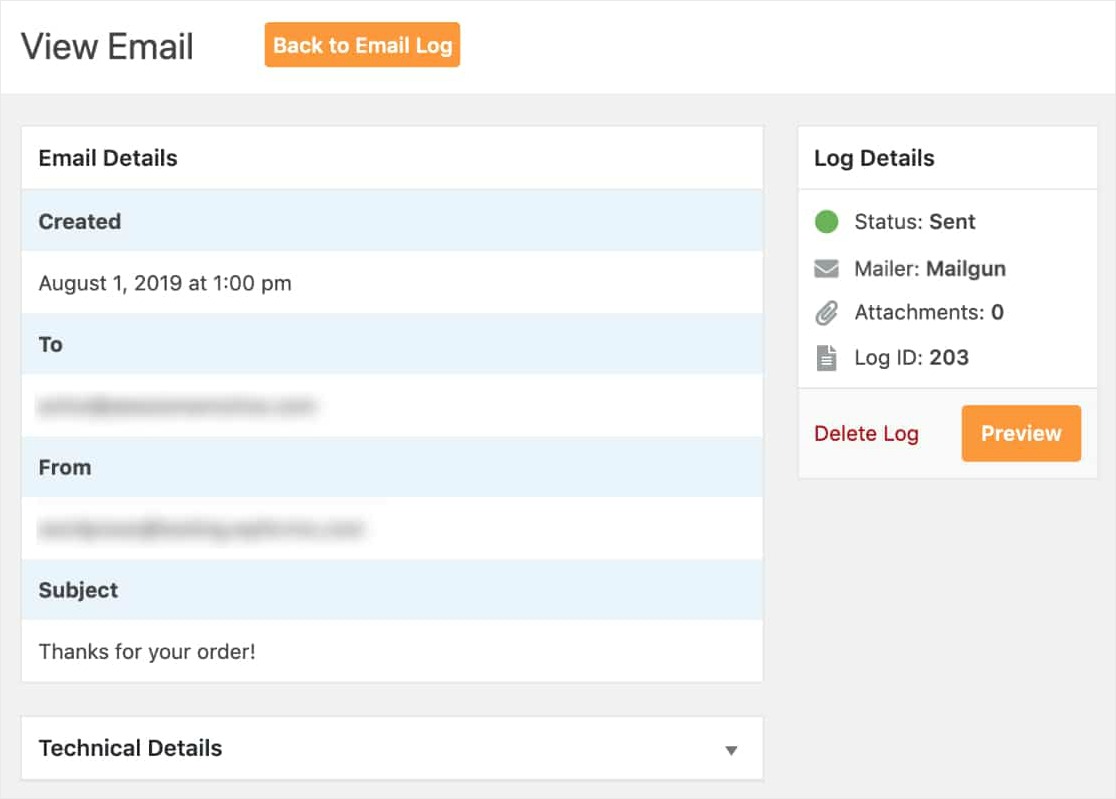 As you can see in the above screenshot you get details of the email like Subject line, From, CC, created date, if there were any attachments or not.
We hope enjoyed this article on how to setup email logs in WordPress. Did you know that you can also track your emails like email opens and link clicks? Want to know how this can be done? Check out our article about email tracking using WP SMTP Mail
So what are you waiting for? Get the WP SMTP Mail plugin today and setup email logs and do email tracking.