Do you own a membership site created using the Memberpress plugin and want to create email reminders? In this article, we will tell you how you can create awesome Email reminders in order to notify your members about certain events.
Before we proceed further let's get to know some basics about Memberpress and then we will explore how one can create email reminders for their Memberpress website
What is Memberpress
Memberpress is one of the most popular WordPress plugin that makes it super easy to turn your regular WordPress website into a Membership website. So if you are looking for the best WordPress Membership plugin then Memberpress is the ultimate go-to solution.
One of the best parts of using Memberpress is that you don't need to do any kind of coding. So if you want to create a Membership website but have no technical or coding experience whatsoever you can still create a Membership website by making use of Memberpress plugin.
Let's have a look at some of the features of Memberpress that makes it the go-to solution for creating membership websites.
By making use of the Memberpress plugin you can restrict posts, pages, or modules so that only the people who have paid for the subscription will get access to your content.
– Memberpress makes it super easy to apply coupons to your membership modules, courses
– Memberpress supports various payment options e.g Authorize.net, Paypal, Stripe, etc.
What is the reminder feature in Memberpress
Memberpress has a powerful feature called Email reminders which makes it super easy to create Email reminders and remind your subscribers/customers to take the necessary action.
This feature not only helps you get new memberships but also help you retain the existing members.
Before we proceed further let's have a look at the use cases when you will need to send email reminders to members who have enrolled for your membership website
This email reminder feature allows you to send automated emails before an event is about to happen or already done.
The following automated reminder options are supported by Memberpress and can be triggered depending on the different scenarios
– When users sign up newly to your membership website – An email is triggered automatically whenever a new user signs up for a subscription. You can notify your new users that they have successfully enrolled into your membership site. You can also include the onboarding instructions in this welcome email and include any support or contact details in case they wish to get in touch with you or need help with anything.
– Send a reminder to your users in case they abandon the signup process – Let's assume your users come to the checkout page but they abandon the signup process, the reasons can be varied, they might abandon due to the high price or they tried making a payment but their was a transaction failure because of insufficient funds on their card. The reasons can be different as to why users might have abandoned the signup process. So you can setup a backend abandoned retargeting system as this is a good way to get better conversions.
Just make sure that you don't send an email reminder before 12 hours from the moment they abandon the purchase. There are high chances that they might come back and complete the purchase. So it's better to have a time period of at least 12 hours before sending the reminder email.
– Send an email reminder when their subscription or monthly subscription is about to end or renew – When the monthly subscription is about to end an automatic email reminder is sent to the customer.
Bonus Tip: In case users might have abandoned the cart for some reason you can always offer a discounted link in the retargeting email. This way the users who abandoned the cart might sign up this time around because of the discounted price.
One of the benefits of Memberperss Email reminders is that you can retain your members to your Membership website before their subscription expires. So when the users receive these subscription reminders many of them would renew the subscription which adds to further revenue to your Membership business. The best part is that you can customize and configure these email reminders as you want. In case you have multiple membership websites created using Memberpress you can send reminders for those specific sites as well
Now that we had a look at the use cases let's proceed further and begin with the actual implementation.
Step by Step process on How to create reminders in Memberpress
Setting up reminders in Memberpress is pretty simple and straightforward.
Once you login to your WordPress website go to your dashboard and then mouseover on the Memberpress tab (as shown in the below given screenshot) and click on reminders in order to create new reminders or check the ones which you have already created.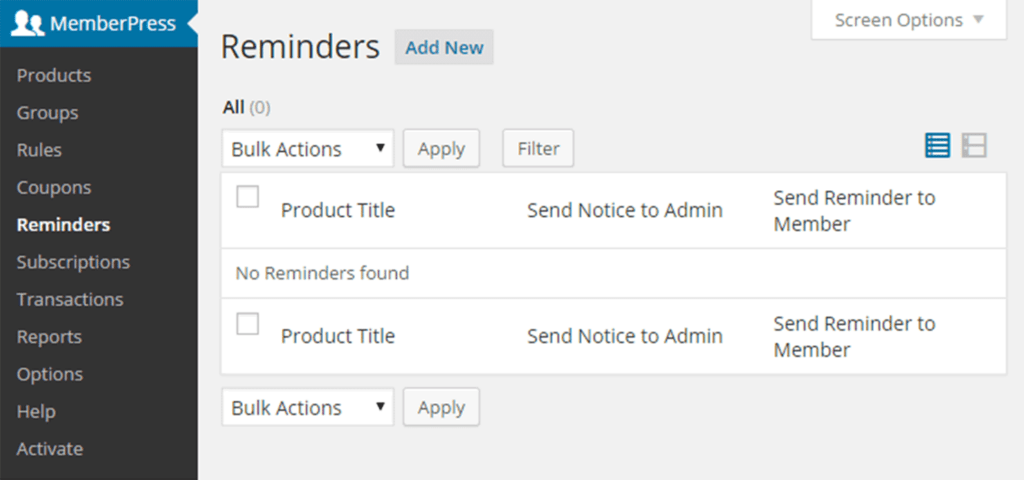 Once you click on Reminders you can choose from any of the reminders (triggers) which we discussed in the earlier paragraphs. Once you have chosen a trigger then you can setup a time interval for the reminder to be sent.
Below we have shown one such example wherein a reminder to sent to users when they abandon the signup process. In this case you can see that we have chosen the trigger and the time frame.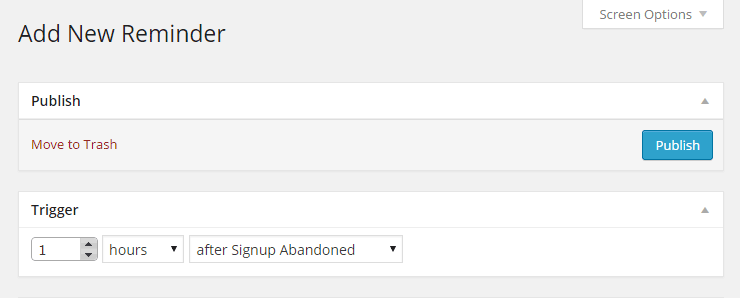 You can even customize the Email reminder templates as per your wish.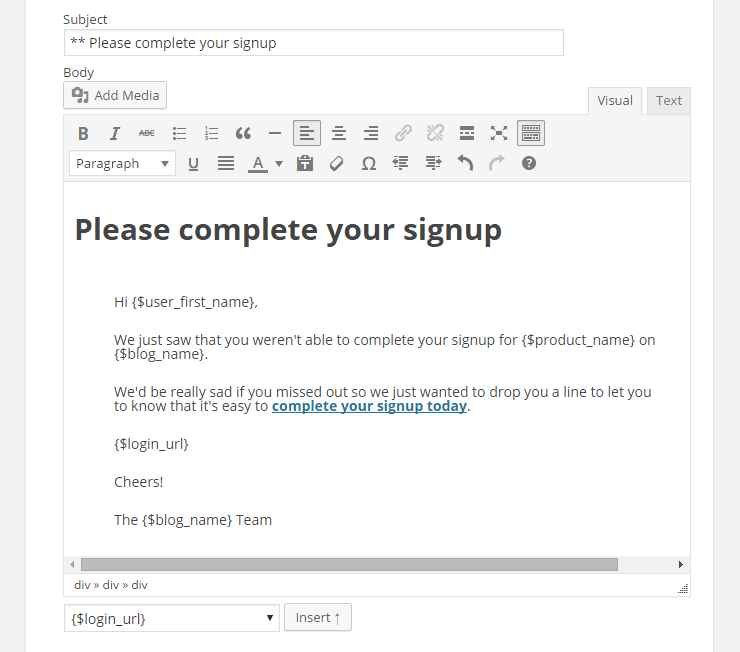 You can customize the email templates and choose any specific colors that you wish to use. You can even add images or logos if any related to your membership.
Before sending out an Email reminder it is always good to do an initial test email before you send out the actual one.
Below we have shown an example of how reminders look like in your Memberpress dashboard

In case you prefer watching a video tutorial you can refer to the below-given video which shows how to create great reminders in Memberpress.
Make the most of the reminder feature of Memberpress and increase the retention rate of your subscribers and get more revenue by implementing these reminders effectively.