Do you want to include surveys on your WordPress website? Are you looking for the best WordPress survey and polls plugin? If you answered a Yes to these questions, then you have come to the right place. In this article we will tell you how you can create surveys and polls and add them on your WordPress website by making use of the best WordPress survey and the best WordPress poll plugin
What if you could get both surveys and polls funcitonliaty in one WordPress plugin? WOuldn't that be great as well as cost effective? Lets dive deeper into the details and look at how you can create and add surveys and polls on your WordPress website using a WordPress plugin
Without beating around the bush let's jump straight away to the plugin that we are going to use. The plugin is called WPForms which is the best WordPress survey plugin as well as the best WordPress polls plugin. So, you don't need to buy a subscription to two different WordPress plugins to achieve this functionality. WPForms can help you implement a survey as well as a poll on your WordPress website in a hassle-free way.
In order to use the Survey and Polls addon you will have to get the WPForms Pro license, and then install and activate the addons.
Step 1: Install and Activate WPForms Plugin
Follow the below given process in order to install the WPForms plugin
Navigate to your WordPress dashboard
Go to the Plugins section –> Add New
Once you click on Add New you will come across a screen. In the search box type "WPForms" and then you will come across a screen similar to this one.
Now click on "Install Now" and then Activate the Plugin
Once you are done with the activation you will be asked for the License Key
Where to find the WPForms License Key
Navigate to your WordPress Dashboard and then go to the WPForms section –> Settings
Once you click on Settings you will get a window on the right hand side. Keep on scrolling down until you find the License Key section. You will come across a screen that's similar to the one shown below
In case you have purchased the WPForms Pro License then you can find the license key in the account which you used to purchase WPForms subscription
Once you have entered the license key then we will go to the next step i.e Installing the Survey and Polls Add-on.
Step 2: Install the Addons by WPForms
In order to install the addons follow the below given process
Navigate to your WordPress dashboard –> Mouseover on WPForms –> Click on Addons (Refer to the below screenshot)
When you click on "Addons" you will see all the addons. Scroll downwards on the Addons page and you will come across the Survey addon and Polls addon as shown in the below screenshot. Click on Install Add-on.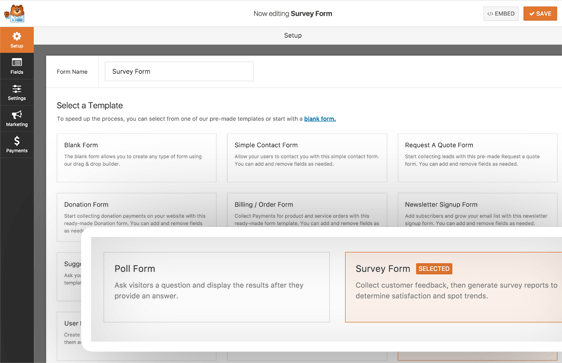 Let's have a look at some of the amazing feature of this best Survey and Polls plugin for WordPress
Drag and Drop builder
You can create beautiful forms using the drag and drop builder in just a few minutes without doing any kind of coding. Even the people who don't have experience with technical aspects can also create amazing forms. WPForms is one of the best drag and drop survey builder plugins for WordPress which is beginner-friendly. You can create amazing surveys and polls by making use of WPForms' drag and drop builder interface.
If you were to implement survey forms on your website without using WPForms then it would be a tough task to work on.
Best-in-class reporting
There are several other WordPress survey and polls plugin but they lack the detailed analysis and reporting feature which one might need to derive insights from. WPForms is one of the best WordPress survey and poll plugin which offers best-in-class reporting so that you can do better analysis, derive insights and visualize the stats so that you can make better data-driven decisions.
WPForms provides a drag and drop form builder functionality which makes it super easy to build even complex forms without doing any kind of coding or hiring a developer.
You can extract the survey and poll reports as well as share them with your audience
One of the reasons why we prefer WPForms for creating surveys is that they have integrated survey features into existing form fields. By using WPForms Survey Addon you can turn your existing form into survey form.
All that you need to do is enable the survey and poll related features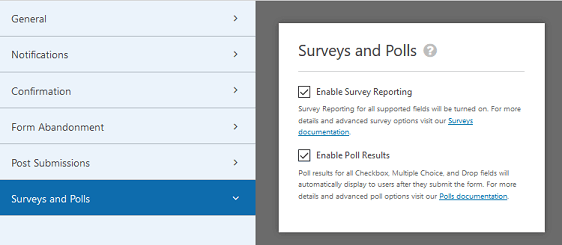 Whenever you enable survey and poll features the form fields are converted into smart survey fields.
WPForms also has a Likert scale as well as matrix type of questions which you can make use of, while creating surveys and polls.
Matrix Type of questions are one of the popular formats used in survey forms. Let's have a look at the backend of creation of a matrix type of question
Create beautiful Visual reports that you can customize
You can create beautiful reports and utilize the visualization options for presenting the report. You can customize these reports and change the visualization as per your requirement.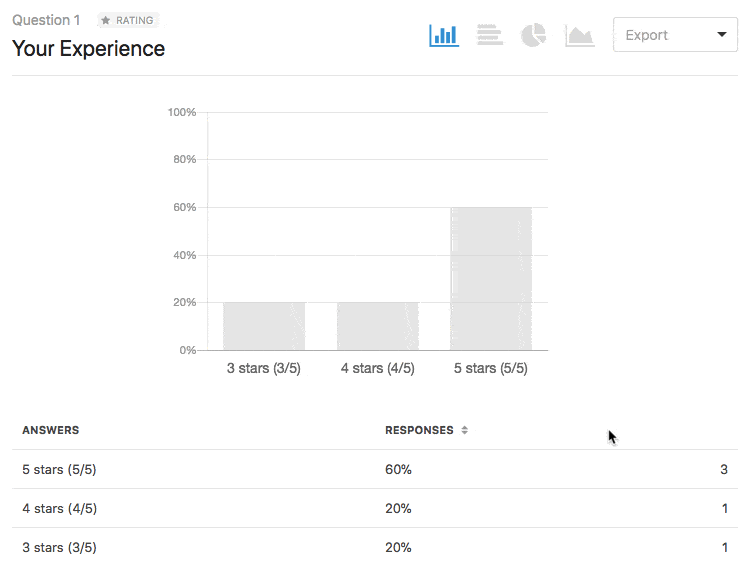 Enable Smart Survey Fields on your Older Forms
You can edit your older forms, enable survey and polls feature and this way you have turned them into survey forms. WPForms is the only WordPress survey plugin that offers this functionality.
Real-time Reporting
WPForms offers real time reporting for survey and polls. So, you can share the results of the surveys and polls to your audience immediately after they share their responses.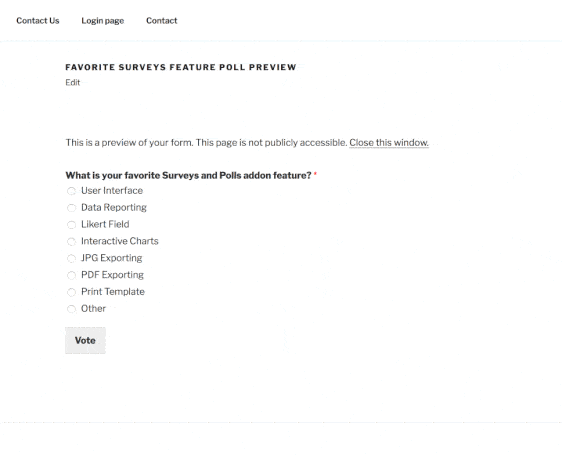 Share / export individual charts / reports
By using WPForms Survey and Polls addon you can export/share reports with your internal team for presentation or on your social media profiles so that your audience is aware of the same.
But what if you wanted to share individual graphs or charts? Worry not, you can do so with WPForms. You can export these individual charts and graphs in JPG or PDF format. You can share these individual reports with your audience or in your Blog post or social media channels.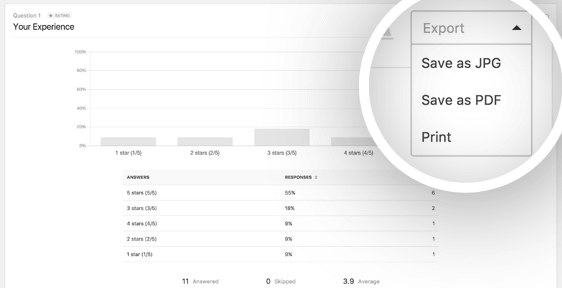 Using Powerful Survey Logic in your Surveys
What if you could decide on the next survey question based on what the user has answered. Wouldn't that be cool? You can achieve this functionality using the conditional logic feature of WPForms.
WPForms makes use of a powerful conditional logic which you can use in surveys to personalize your survey questions depending on what is the previous answer the user has given. Your audience will feel more connected with this personalized experience and will be more engaged while filling out the responses to the questions asked in the survey. The conditional logic helps you take even better data-driven decisions.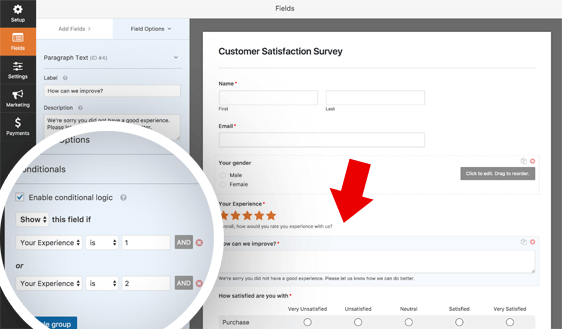 So what are you waiting for? Grab WPForms Pro license and start building Survey and Polls