Do you want to add multi-step popups on your WordPress website without doing any kind of coding? In this article we will tell you how to add multi-step popups on your WordPress website to increase conversions. We will be doing it the easy way by making use of WordPress plugin
For the uninitiated, a pop-up is a little window that appears when you are viewing the website. Marketers primarily use pop-ups to advertise and generate leads.
Pop ups may be irritating to some people to see on their screens but they'll work to grab website visitors' attention. DId you know that a simple website pop-up could raise your email subscriber rate? Having an email list is vital to your company for a number of reasons. Web pop-ups can help you to some extent to increase your email list. Website pop-ups can be used to allow website users to connect with your company via pop-up boxes to get some value or offers for your products. We have to insert either at the time of entering or exiting the website.
One of the most successful ways to maximise the amount of emails received is to set up subscription pop-ups. Businesses using exit-intent pop-ups that occur when a user tries to exit the website may experience a 600% rise in sign-ups.
Creating multi-step popups
OptinMonster is the ultimate popup maker and marketing plugin that can help you attract more email subscribers, boost revenue, and grow your business.
With OptinMonster popups and the conversion toolkit, visitors to the site can be turned into customers and subscriptions. The best part? With OptinMonster, multi-step popups are easy to use AND easy to create!
It allows you to create beautiful pop-up types, email newsletter styles, announcement bar, gamified spin, opt-in steering wheel, and a range of other immersive pop-ups for your websites in minutes, without having any coding knowledge.
Before we go ahead with the next steps of the tutorial you will need an Optinmonster account
Note: Optinmonster doesn't offer any Free Trial so you will have to purchase the Pro plan or higher.
Steps to create pop up in OptinMonster
Step 1: Login to your Optinmonster account
Once you login to your Optinmonster account you will come across the dashboard as shown in the below screenshot. On the right-hand side, you will see the option of "Create New Campaign"
Once you click on "Create New Campaign" then in the next step you have to choose the type of campaign
Campaign Types available inside Optinmonster
In our case, we would be choosing the "Popup" campaign type. Once you have chosen the campaign type it's time to choose the campaign template.
Now select one of the templates from the available templates in OptinMonster. Optinmonster has close to 50 pre-built templates catering to various types of requirements and devices. If you know that your website receives maximum traffic from mobile then you can even go through the filters and choose mobile optimized templates.
Depending on your requirement you can choose a campaign template
Templates available in Optinmonster
As you can see from the above screenshot you can choose templates from the in-built library of campaign templates inside Optinmonster.
For the sake of this tutorial we are going to choose the Basic template.
Once you mouseover on the Basic template you will see two options "Use Template" and "Preview". If you want you can preview the template before using.
You can also choose your templates according to the devices you want to optimise and also the goal of your campaign.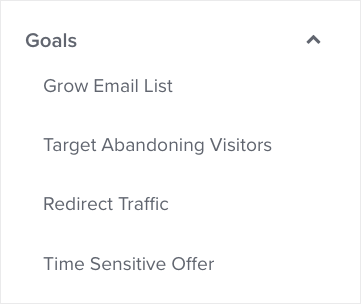 If you want to create multi step popup you can use canvas templates and create from scratch without having any coding skills.
Once you click on Use Template you will come across a screen similar to the one shown below where you can give a suitable name to your campaign and mention which sites you want this campaign to appear on.
Click on Start building as shown in the above screenshot to start building and designing your campaign.
Designing Your Popup
Once you click on Start building you will come across the Design view wherein you can make changes to your popup as to what text you want to use, what kind of color combinations you want to use, which font you wish to use, CTA buttons etc.
in fact depending on the goal you want you can choose the template of your multi-step popup
The method that we are going to use is Monsterlinks which is basically an embeddable link that you can add to any text or button. When a user click on this Monsterlink your popup will appear.
You can easily modify any part or element of your multi-step popup using the drag and drop builder interface. YOu can change the text using the "Text" popup, there is also an optin block
Below we have shown example of how you can change the Text by using the Text Block.
You can also play around until you create the best optin. Below, we have shown an example of how you can change the settings of the Optin.
You can work on the popup campaign design as per your requirements. Once you are done with all the design changes and setting up the elements then click on the Save button that you can see on the top right hand side corner.
In order to modify a particular element you just have to click on it and design the element by using the various designing/ formatting options available on the left hand side of the drag and drop builder interface.
In case you want to add any new block click on "Add Block".
You can add several block options to your popup (some of them are mentioned below). YOu can choose any one of these
Countdown timer
Button
Image
Video
Chatbot
You can create killer and conversion oriented multi-step popups in as less as 10 minutes by making use of the drag and drop builder present inside Optinmonster.
Now customize your Pop-up according to your needs with easy drag and drop builder
Remember: You will have to create a success page depending on the goal of your campaign.

Once you are done setting up the Success page depending on the goal of your popup campaign it's then time to create Display Rules which will basically define when to trigger the popup campaign.
At the top of the editor Click Display rules.

 You'll see a different options for display rules, by default you will see time on page but in our scenario you will have to click "MonsterLink (On Click)"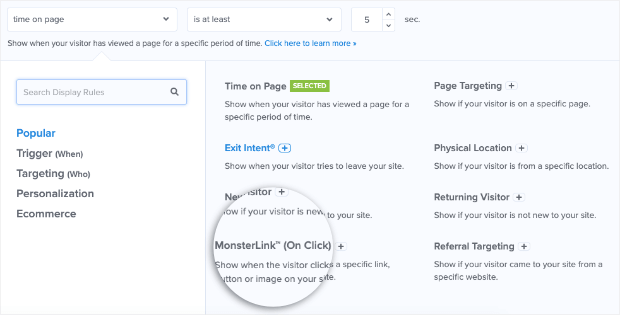 Now click on Copy MonsterLink Code and paste it on your site.

Get the code and embed on your website wherever you like.
Whenever you copy paste the code it will be in HTML form something like

<a href="https://app.monstercampaigns.com/c/zme20kceu2n31jdtbmkb/" target="_blank">Click Me!</a>

You only need to copy the URl between the quotation marks (starting with "https://") from the HTML code above.

So we will get the code as

https://app.monstercampaigns.com/c/zme20kceu2n31jdtbmkb/
You can also use this link as a hyperlink for an anchor text. All that remains to be done is click on "Save" and "Publish" your multi-step popup campaign.
If you are someone that prefers watching the steps in the form of a video tutorial then check out the below video